Product Name: Cranberry Extract
No Irradiation, No Add
Appearance:Fine Purple Red Powder
CAS No.:4852-22-6
Odor: Characteristic
Specification
5:1,10:1,20:1,25:1,30:1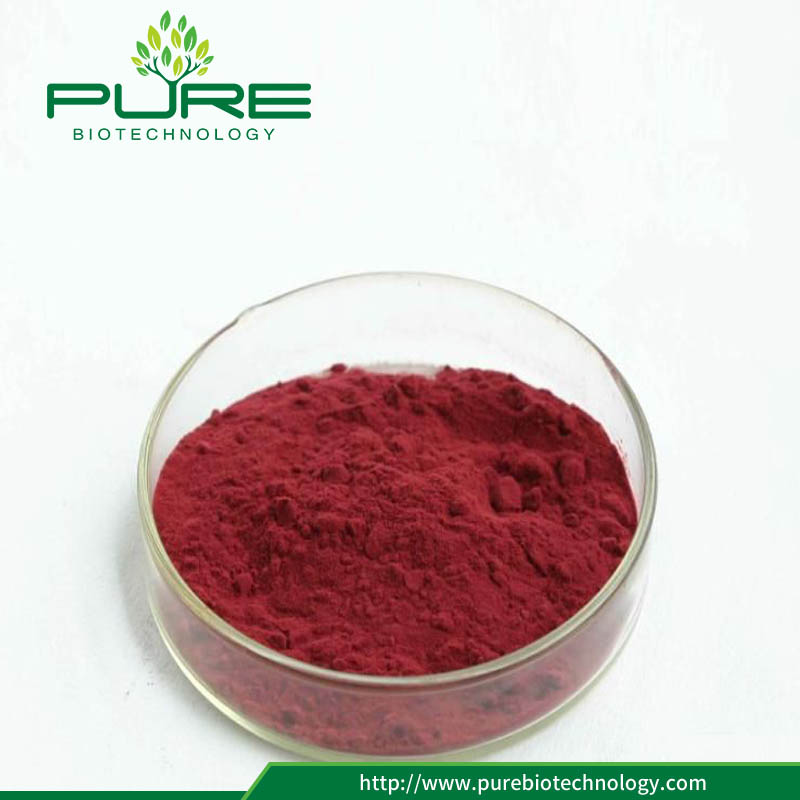 Description of No Irradiation Cranberry Extract:
Cranberry are a group of evergreen dwarf shrubs or trailing vines in the subgenus Oxycoccus of the genus Vaccinium. Cranberry are low, creeping shrubs or vines up to 2 meters long and 5 to 20 centimeters in height; they have slender, wiry stems that are not thickly woody and have small evergreen leaves. The flowers are dark pink, with very distinct reflexed petals, leaving the style and stamens fully exposed and pointing forward. They are pollinated by bees. The fruit is a berry that is larger than the leaves of the plant; it is initially light green, turning red when ripe. It is edible, with an acidic taste that can overwhelm its sweetness.

Cranberry are a source of polyphenol antioxidants, phytochemicals under active research for possible benefits to the cardiovascular system, immune system and as anti-cancer agents. Cranberry juice components also show efficacy against formation of kidney stones. Raw cranberry and cranberry juice are abundant food sources of the anthocyanidin flavonoids, cyanidin, peonidin and quercetin. These compounds have an unknown effect on human health, but are powerful against human cancer cells in vitro. Their effect in humans, however, is unproven, showing poor absorption into human cells and rapid elimination from blood.
the extraction of proanthocyanidins from certain plant species.
Main Functions of No Irradiation Cranberry Extract:
1. Anti-oxident
2. Enhance the immune system ability.
3. Reduce heart disease and stroke occurred
4. Help to prevent various free radicals related diseases
5. Reduce the number of cold and shorten the duration
6. Enhance flexibility of arteries and veins and blood capillary
7. Relaxation vascular so as to promote the blood flow and the high blood pressure
8. Resistance to the effect of radiation
9. Promote the retinal cells regeneration, depending on the purple quality, improve eyesight to prevent myopia
Application of Cranberry Extract:
1. Applied in nutritional supplements;
2. Applied in pharmaceutical field;
3. Applied in health food products;
4. Used as skin care materials.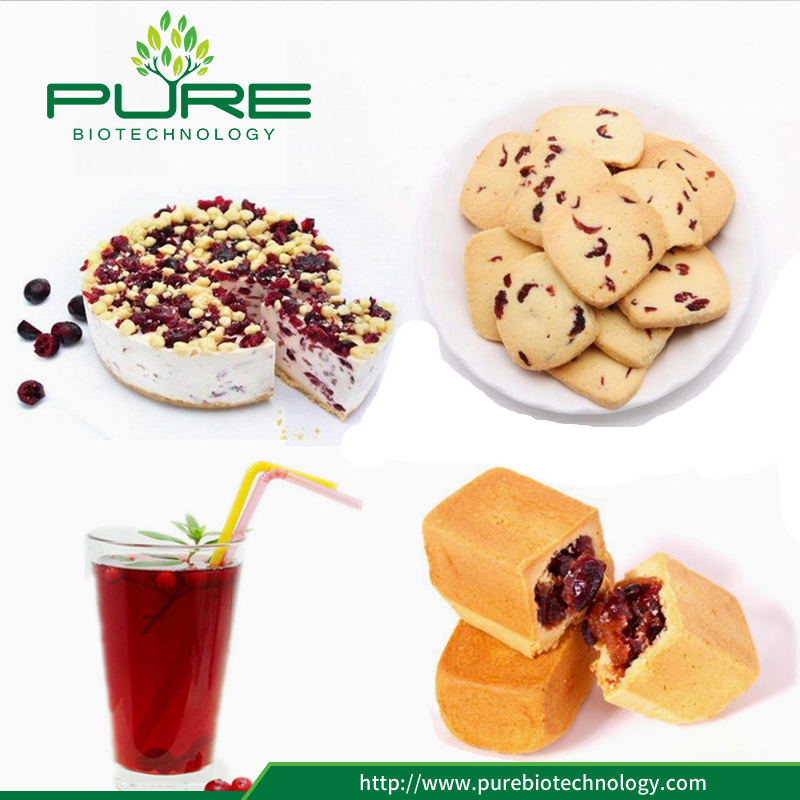 Package&Storage
Paperboard barrel lined with two-layer polyethylene film bag;
Tightly sealed in a clean,cool,dry area, keep away from strong, direct light.
Shelf life : 2 years when properly stored .