What is Matcha Tea Powder?
Matcha Tea Powder can be fully gained by extracting separating condensing and spray-dryingfrom the non-polluted tea-leaves. This product is convenient, transparent, dissolvable with pesticide residue free. Therefore, it keeps the maximum colour and lustre, aroma and nutrition of fresh tea-leaves and has been used widelyin many tea foods such as healthy products, beverage, milk tea, ice cream,bread.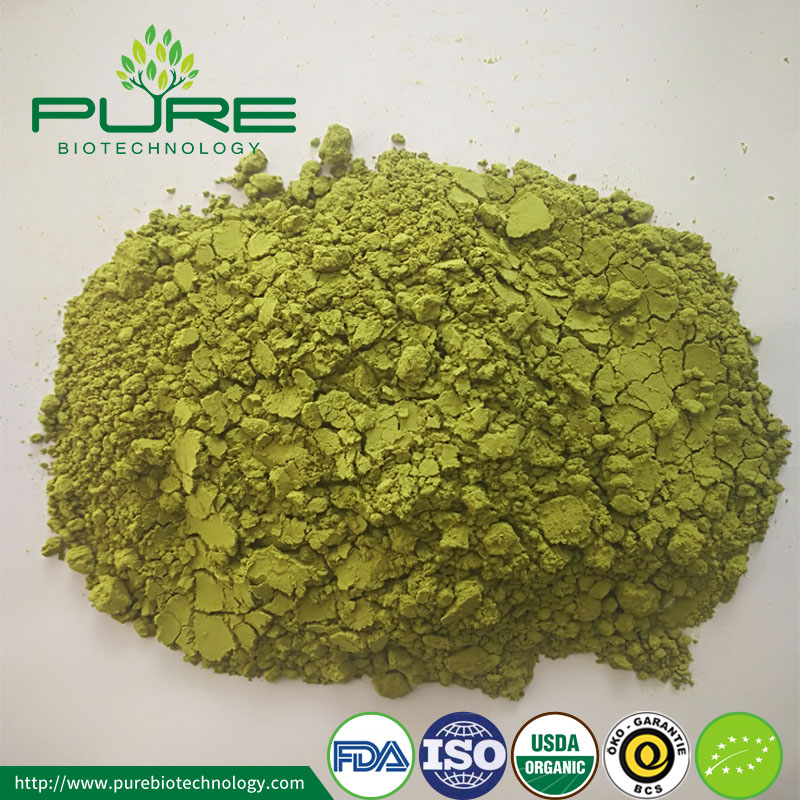 Specification of Food Grade Matcha Powder:
Product Name

Matcha Green Tea Powder

Plant Part

Camillia sinensis leaves

Origin

China

Grade

Food Grade

Analysis

Specification

Assay

100% Natural

Appearance

green fine powder

Taste&Odor

Green tea taste, Free from extraneous odor

Particle Size

100% pass 300 mesh

Additive

Not

Impurity

Not

Solubility

100% soluble in water

Ash

≤7.0%

Moisture

≤6.0%

Heavy metals

≤10ppm

As

<2ppm

Lead

<2ppm

Microbioiogical :

Total of bacteria

≤1000cfu/g

Fungi

≤100cfu/g

Salmgosella

Not detected

Coli

Not detected

Storage Store in cool & dry place. Do not freeze.

Keep away from strong light and heat.

Shelf life 2 years when properly stored



























Function and Application:
Matcha tea powder can remove radicals and anti-aging;
Matcha Tea Powder can anti-radiation and anti-cancer;
Matcha Tea Powder can reduce blood pressure, blood sugar and blood lipids.
Matcha Tea Powder can help to digest and lose weight, it get the favour of the beautiful women nowadays.
Application:
Matcha Tea Powder can mixed with milk and sugar as a drink.
Matcha Tea Powder is used as flavouring in many Western-style chocolates, candy, and desserts, such as cakes and pastries,including Swiss rolls and cheesecake,cookies, pudding, mousse, and green tea ice cream.
Matcha Tea Powder is a number of cafes have introduced lattes and iced drinks using matcha powder. It has also been incorporated into alcoholic beverages such as liqueurs and even matcha green tea beers.

Ningxia Pure Biology Technology Co.,Ltd (PURE Biotechnology) committed to supply Matcha Green Tea Powder, our advance:
1) 100% FIRST-HARVEST genuine tea leaves in spring.
2) SHADE-GROWN CULTIVATION.
3) TRADITIONALLY MADE without artificial additives or preservatives.
4) FACTORY FRESH, directly from the workshop.
5) PRIVATE LABELING service available.